You are probably using your garage door more frequently during summer compared to other seasons. With that, know that checking for your garage door is a must to ensure that it is equipped and ready for a frequent use. Below, there are 5 easy garage door checks that you can do. You may ask for a professional's help to do these, or you may do it on your own as these are very simple tasks.
1. Perform a visual inspection.
Check the springs of your garage door to ensure that it is not relaxed or broken. Also, check the cables for loose fasteners and fraying. If you notice that something is wrong with your cables or springs, call for a garage door professional right away.
Check for any loose hinge or screw and tighten it. Make sure that nothing is obstructing the rails. Inspect your rollers and make sure that there are no rust or dirt build-up.
Finally, try to open and close the door for a few times and check if it is operating smoothly. If it does, then you are now done with step one.
2. Check the door opener's operation.
Opening and closing your garage door can tell you if your door opener has problems. The common problems that you may notice in a garage door opener are the following:
Loose or broken drive chain or belt.
Dirty drive mechanism.
The drive mechanism is loose.
Blown fuse
Has a weak back-up battery.
3. Check the emergency release device.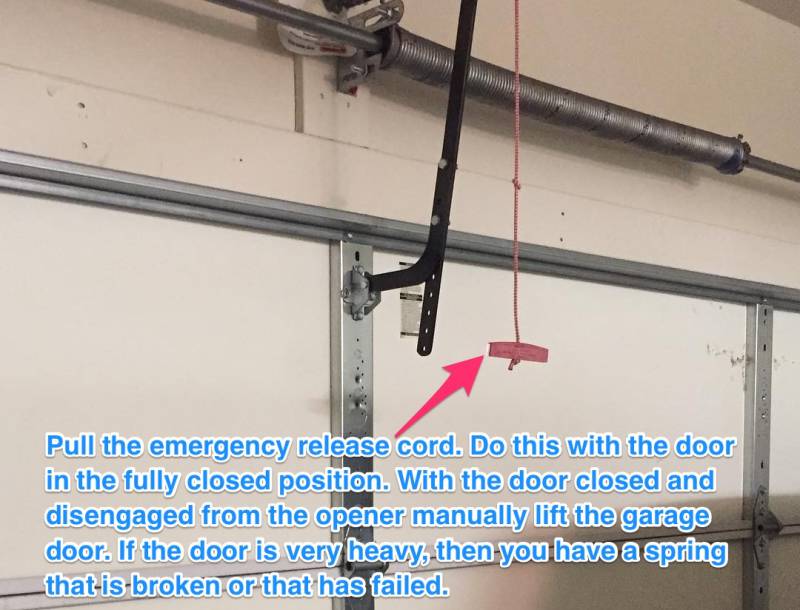 This is the red cord that hangs above your door. The purpose of this device is to avoid entrapment when the door opener malfunctions. Upon puling this cord, your door opener will automatically be disconnected from your garage door. See to it that you disconnect this when the garage door is closed for your safety. After you have disconnected this, you can now manually open your garage door.
To reconnect the emergency release cord, refer to its manual.
4. Try the photoelectric-reverse feature.
This feature is located at the bottom of your garage door. An invisible beam is projected across your door's opening so that when something blocks this beam, your garage door will automatically reverse its motion. To check this, open your garage door and place something along the photoelectric beam's path. Close your garage door now and check if your door will reverse its direction.
5. Try the solid-obstruction reverse feature.
If the garage door hits a solid obstruction, this feature will reverse the door's closing. To check this, place something under your garage door and close it. Your door should stop and reverse when it senses the object.
It is important that you check your garage door occasionally to ensure that everything is working smoothly. If something is wrong with your garage door, ask for a professional's help right away. For professional's services, message Direct Service Overhead Garage Door Company.
Can you ell if your garage door is still in its best condition? Read about the Signs that Your Garage Door is Getting Old in our next blog so that you will have an idea about this.