The most common commercial garage roll-up door is the one that is made from steel. These types of doors are known to be great doors for security, and it is also easy to use. Now, as for the maintenance of these doors, you will have to make sure that you are familiar with each and every commercial roll-up garage door parts and you have to see to it as well that you team up with the experts and ask for their assistance from time to time to guarantee that you will not miss a single problem that may occur. So, as for the best company that you can contact regarding this matter, Direct Service Overhead Garage Door Company is the one that we highly recommend.
Parts of a commercial roll-up garage door: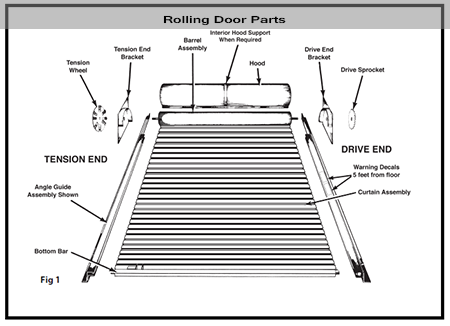 Curtain – this is the part of the commercial roll-up garage that serves as the main door. The curtain is made of steel and when it is closed, it covers most of the space of the door. On the other hand, when it is opened, it is inserted away.
Slats – this is the individual segment you see in the curtain. These segments are connected making it easier for the door to roll-up.
Springs – this is necessary because the springs provides tension and keeps the door open whenever it is needed to be opened.
Counterbalance System – this part is responsible for helping in keeping the door open.
Seals – these are installed in every edges of the door to make sure that the temperature inside is well regulated and maintained when the garage door is closed.
Motor – this is responsible for opening and closing the door if your garage door is motorized and can be controlled by a button.
Those mentioned above are all the important parts of a commercial roll-up garage door. Now, if you have some questions or you want to know more about these type of garage doors, do not hesitate to message Direct Service Overhead Garage Door Company. The company has a group of people that can assist you with whatever you may need.
If you have any concerns regarding garage repairs, you might want to check out Garage Repair Guy.